Aluminium Toroidal Transformer
Featured Product from Hengda Electronic Factory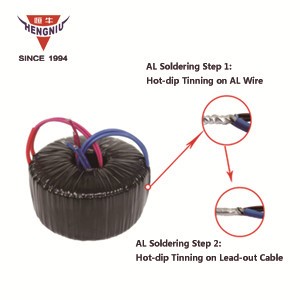 WHAT WILL YOU GET?
To be your transformer solution expert at your hand!

To enjoy increased 20% net profit by reducing Cost by 20%.

To enjoy a good quality guaranteed by our advanced Aluminium alloy soldering technology.

To enjoy prompt shipment guaranteed by our daily output of 9800 PCS.

To enjoy transformer to well work for you over 10 years.

HOW CAN WE WELL SOLDER ALUMINIUM

Our Know-how technology of advanced Aluminium Soldering Technology to well improve the Aluminium Soldering quality by the 2 key steps:

Aluminium Soldering Step 1: Hot-dip Tinning on Aluminium Enameled Wire

Aluminium Soldering Step 2: Hot-dip Tinning on Lead-out Cable

The strict aeronautical and space technologies are introduced to achieve the following advantages:
In the anaerobic state, aluminium oxide can be avoided by the tin soldering to make the soldering spot in a good contact.

The corrosive chemical reagents such as Soft solder, paint remover etc.are not used to get an enviromental result.

Thanks to the strict aeronautical and space technologies,at the soldering surface, there is an alloy of tin and aluminium at the level of interatomic bonding, thus the soldering quality and reliability is much better than the common soldering of tin and copper.

The size of Aluminium wire transformer is a little larger than Copper wire, but our self-made toroidal core can meet customer's demand on different size.

FACTS SPEAK LOUDER THAN WORDS

Broadcasting & CATV

KINGTYPE Group, a leading company in the broadcasting and TV industry, has installed our Aluminium Transformers more than 500,000 PCS in ten years from 2005 to 2015. Up to now, most of them are still in a good working condition, and the One-year Failure of Aluminium Transformer is strictly controlled at 200 PPM, which is far less than the One-year Failure of 2000PPM of the our copper transformers.

Export

On August 10th, 2011, Mr. Ramon Romero, Chairman of HR Electronics Group of Spain, and Mr. Xiang Wei, the owner of the Sichuan Chongzhou HengDa Electronic, successfully signed a strategic cooperation agreement between Chongzhou Hengda and EFITER, a subsidiary of HR Electronics Group, for the European market; Aluminium transformers manufactured by Sichuan Chongzhou HengDa Electronic were exported to many countries in Europe for quite a long time, which are enjoying a good reputation.

High-speed Railway Train

Sichuan Chongzhou HengDa Electronic developed the toroidal transformer special for the High-speed Railway Train to well work in a micro-vibration status, the primary is wound by the 220 grade Aluminium enameled wire, whose quality, life and performance is much better than 130 grade Copper enameled wire, thus a good safety and reliable performance can be reached.

More Applications

Broadcasting,CATV, audio, vedio, video, hi-fi,medical instrument/device, test device/instrument, precision instrument, robot, new energy, solar energy, communication, Electromechanical equipment, power supply, power charger, power inverter, lighting, led, vessel, heater, automatic control, health protection, health care, industrial equipment, oil, gas, analyzer, Optoelectronic precision instrument, precision photoelectric, precision optical instrument, electrical elevator, Electronic equipment, electrical equipment, weapon, home electrical appliance, washer, refrigerator etc.

WHY CHOOSE HENGDA ELECTRONIC

Over 20 Years Professional and Rich Experience, Since 1994

Over 20 Countries and Regions to be distributed in.

Over 10000 Customers to be served.

Over 10 Certificate to be hold including UL, CE, RoHS, CESI, ISO9001 etc.