Safe Isolation Transformer for Heating System
Featured Product from Hengda Electronic Factory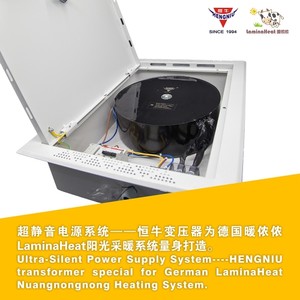 Recently, HENGNIU Power Transformer Special for German LaminaHeat Nuangnongnong Heating System was Exported to Canada in a Mass Shippment at the first time. In 2018, Chongzhou Hengda Electronic Factory made a few trial order for Canada market, now the repeated order in good quantity come to us.


LaminaHeat Nuangnongnong Heating System is driven by a 24V/36V/48V human safety low-voltage power supply, isolated from the Power Grid. Low voltage, big power, big current give a strict requirement on the transformer to improve efficiency and control safety, size, noise, temperature rise. German LaminaHeat inquired the main transforfmer manufacturer all over the world, and finally nominate HENGNIU Brand Transformer made by ChongZhou HengDa as the matching transformer for it's heating system sold globally.


It took Chongzhou Hengda three years to make experiment and test for thousands of times to achieve two independent innovative technologies, among which Inrush Current Limitor gained a state patent, control patent during application; its core device, large capacity toroidal transformer, has been certified by CQC. Now Nearly 20 models in 3 series of Embedded, Wall-mounted and Ultra-Silent can be well produced in 2 newly establised production lines and will be checked in the coming QC lines.


With the outstanding features of Comfortable, Healthy and Safety, it's easy for LaminaHeat Nuangnongnong Heating System to replace the tranditional heating system such as public concentrative heating, air-conditioner, water heating, electrical cable heating ect with the disadvantages of Uncomfortable, Insafety, Unhealthy, Difficult to install and maintenance. Nuangnongnong Heating System is leading the tendency of heating solution in the world.