A durable bond, without all the fuss
Featured Product from Henkel Corporation - Industrial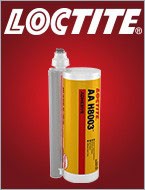 Structural Adhesives
Formulated to provide tough, durable bonds to a wide variety of surfaces
Henkel's structural adhesive products fall under the LOCTITE® and TEROSON® brands. They are engineered to meet a wide range of industrial bonding, sealing and assembly requirements.
LOCTITE® structural adhesives are available in easy-to-use packages for hand-held, manual, and semi-automated applications, including cartridges, syringes, soft-squeeze bottles and dual cartridges for two-part formulations. LOCTITE® structural adhesives are also offered in larger packages such as 5- or 55-gallon pails for high-volume dispensing and automated assembly operations.
They're formulated to meet the rising demands in assembly design and maintenance repair for:
High performance structural bonding
Multi-surface structural bonding
Dissimilar substrate structural bonding
Low hazard structural adhesives
Henkel Adhesives
Henkel is the leading solution provider for adhesives, sealants and functional coatings worldwide.