New Loctite Universal Structural Bonders
Featured Product from Henkel Corporation - Industrial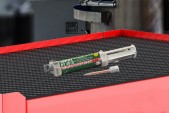 Hybrid adhesives combine strength and speed to deliver bonding that outperforms
New Loctite Universal Structural Bonders Create Limitless Opportunities for Industrial Maintenance and Repair
Henkel has introduced Loctite Universal Structural Bonders, innovative adhesives powered by a patented Hybrid technology that combines the most critical attributes of structural, instant and epoxy adhesives – bond strength, speed and durability.

This powerful combination provides improved performance on a variety of substrates, and the versatility to solve a wide range of maintenance repair challenges.
Offering performance and versatility, Loctite Universal Structural Bonders greatly expand the capabilities of traditional adhesives. These innovative hybrids provide solutions for plant managers, maintenance managers and operators looking for fast, durable, general-purpose repair with a range of substrates and in all types of operating conditions.
The maintenance industry is under constant pressure to optimize efficiency, reduce costs and look for new solutions that keep plants running smoothly and safely. Loctite Universal Structural Bonders are designed to reach beyond conventional approaches, and help tackle the most challenging repair situations.
Loctite HY 4070 Repair Adhesive offers ultra-fast fixture with high-strength performance, excellent gap-fill, and good temperature, humidity and chemical resistance. Designed for a variety of substrates, including metals, most plastics and rubbers, Loctite HY 4070 is a must-have in any maintenance toolbox.
This product is available as a 10 ml ready-to-use pack.
Loctite HY 4060 GY Repair Adhesive is a 5-minute, general-purpose universal bonder that is machinable and works across a wide variety of substrates, including plastics. It provides long-lasting, high-performance durability, fast fixture, excellent low-temperature cure and enhanced safety.
This product is available as a 25 ml cartridge ready-to-use pack.
Get the inside view
Understand some of the most common tests we use to evaluate an adhesive
Watch>>>Secure Success with LOCTITE
Engineers use LOCTITE to tackle some of the most extreme design challenges. Learn more at Loctite-success.com

Secure Success with LOCTITE, a leading global brand of engineered adhesives.
Using LOCTITE adhesives as an alternative to mechanical locking and fastening can help your business achieve a competitive advantage. If you're looking to increase product reliability and improve your production process, then it's time for you to integrate LOCTITE -- the trusted choice of engineers worldwide -- into your design, manufacturing and maintenance processes.
Success Stories
See how LOCTITE has secured success for some of industry's biggest challenges.

Adhesives vs. Fasteners
Learn why adhesives are a superior alternative to nuts and bolts and other mechanical fasteners for almost every application.

Testing Lab
Get an inside look at how LOCTITE can help you secure success with its adhesive testing lab.

WEBINARS
Adhesives have become an integral part of today's industrial production processes. Attend our webinar series to learn more.

Solutions Guide
Browse through our technologies to discover a wide range of adhesive capabilities.

Equipment
LOCTITE dispensing and curing equipment can be easily integrated into your manufacturing process.
Henkel's LOCTITE is the trusted choice for engineered, high-performance adhesive, sealant and coating solutions. Designed to enable customer innovation, increase reliability and improve manufacturing operations, the LOCTITE expansive product portfolio offers solutions for the most demanding industry applications.
LOCTITE solutions enable our customers to improve competitiveness and develop next-generation products and technologies in these industries:
Industrial Manufacturing and Maintenance
AgCon & Specialty Vehicles
Appliances and HVAC
Electrical and Optical
Filter
General Industry Manufacturing
Handheld Devices and Displays
Industrial Equipment Maintenance and Repair
Medical
Railway
Solar
Vehicle Repair and Maintenance
Wind
Aerospace
Aerospace Assembly
Aerospace Composite
Aerospace MRO
Automotive
Engine & Transmission
Automotive Interior
Automotive Exterior
Automotive Electrical/Electronics
Automotive Composite Components
Heating/Ventilation/Air Condition
Automotive Chassis
Automotive Body-in-White

Cars (Passenger Cars, Light Commercial Vehicle)
OEM Process Centers

Commercial Vehicles

Medium & Heavy Duty Truck
Bus & Coach

Motorcycle
Electronics
Semiconductor Assembly
Printed Circuit Board Assembly
Consumer Electronics
Emerging Electronics
Advanced Packaging
Packaging, Consumer Goods and Construction Adhesives
Flexible Packaging
Tapes, Labels and Graphics
Construction
Shoe
Technical Laminates
Coatings for Paper and Film
Medical
Adhesives, Sealants & Functional Coatings
We offer a comprehensive portfolio of tailor-made solutions for our industrial customers and high-quality consumer and professional products. Our global Team of experts partners with customers to deliver best-in-class service. Our powerful innovations and leading technologies under top-brands such as LOCTITE create sustainable value for our customers.
Stay Connected
LOCTITE Facebook
LOCTITE Twitter
LOCTITE Youtube
Henkel Auto Twitter
Henkel Adhesives Youtube
Henkel Adhesives Blog