Insulation for PCBs.
Featured Product from Henkel Corporation - Electronics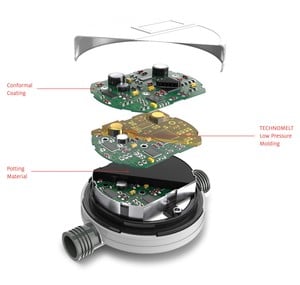 Potting Compounds for the Ultimate Protection of Electronics
Potting compounds for effective potting of electronics to protect against environmental influences, improve mechanical strength & high electrical insulation.
Potting materials are a permanent protective solution which will remain as an integral part of the unit to protect the electronic assembly while providing numerous benefits:
Electrical Insulation
Enhanced Mechanical Strength
Heat dissipation
Vibration/shock resistance
Corrosion protection
Chemical protection
Environmental influences
Potting and encapsulation systems from Henkel offer superb printed circuit boards and electrical device protection. Used in today's most challenging environments such as automotive and aerospace where thermal conductivity and operating temperature boundaries are pushed to the limit, potting materials deliver enhanced mechanical strength, provide electrical insulation and improve thermal reliability.
Henkel Adhesives Solutions for Electronics
Connect with us on LinkedIn
Connect with us on YouTube
Connect with us on Facebook
Henkel is the leading solution provider for adhesives, sealants and functional coatings worldwide. At Henkel Adhesive Technologies, our brands are an essential part of countless industrial and consumer applications. We combine unmatched innovation in adhesives, sealants, and functional coatings with industry knowhow to develop tailor-made solutions with you—for you.