Sealing solutions to prevent leaks
Featured Product from Henkel Corporation - Electronics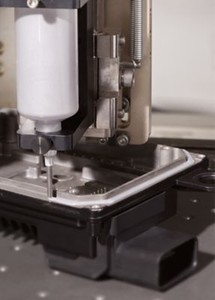 Sealing solutions to prevent leaks
Henkel corporate provides some information regarding Henkel and COVID-19.
Sealants are used to seal a surface to prevent passage of a liquid or gas. Our innovative industrial sealants are the result of consultations with industry experts and analysis of real-world production environments. Our sealants increase productivity and save money.
Sealant Applications
Industrial sealants from Henkel serve the automotive transportation, electronics, aerospace, metal, durable goods, consumer goods, maintenance and repair, and packaging industries.
Sealant Benefits
Maintaining or improving efficiency is Henkel's primary focus. Industrial sealants must work right the first time and every time. Fast fixture times and reliable performance in high-pressure applications are just some of the additional benefits of Henkel industrial sealant solutions. We offer a range of different sealants for various applications:
Elastomeric Adhesives / Sealants (also known as flexible adhesives)
Polyacrylate Sealants
Silicone Sealants
Urethane Sealants
Henkel Adhesives Solutions for Electronics
Connect with us on LinkedIn
Connect with us on YouTube
Connect with us on Facebook
Henkel is the leading solution provider for adhesives, sealants and functional coatings worldwide. At Henkel Adhesive Technologies, our brands are an essential part of countless industrial and consumer applications. We combine unmatched innovation in adhesives, sealants, and functional coatings with industry knowhow to develop tailor-made solutions with you—for you.