5 Port Unmanaged Ethernet Switches
Featured Product from Henrich Electronics, Inc.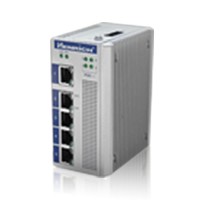 Unmanaged Industrial PoE Switches
HES5A-4E60 Series
5 Port Unmanaged Ethernet Switches with 4 IEEE 802.3bt PoE++ Ports
The HES5A-4E60 series are smart, 5-port, unmanaged Ethernet switches supporting 4 PoE++ ports, with each port can provide up to 60 watts of DC power. The switches can be used for the indicators, LEDs, cameras and media screens in railway or other industrial Internet ap?plications. Compliant with IEEE802.3bt and the optional power class feature, HES5A-4E-60 allows the PD to indicate its power requirements at different voltages. The compact design makes HES5A-4E60 suitable for limited installing space. The switches can be easily installed on a DIN-rail or multi-directional panel mounting, and wide temperature models are optional. The minimum 9VDC power input is designed for the emergency circumstances that the train starts its standby battery which is 9VDC output.
Industrial PoE Switches
Henrich's PoE switches offer a quick and inexpensive way to power network devices such as IP cameras, wireless access points or other appliances in areas where it's physically impossible or cost prohibitive to supply electric power. Henrich only offers full 30 W PoE+ power on each port. We are experts at PoE as shown by our HES28GM-24E series, with 24 gigabit copper ports with full PoE+ on each port. That's 960 watts of power provided by the switch. Power your devices with our industrial PoE switches today!
Henrich--Your trusted partner for Industrial Ethernet Solutions
Founded in Storrs, CT., USA, Henrich Corporation has been helping customers across the globe to manage their industrial automation systems with rugged and secured Ethernet Networking Products in various industries, such as power utilities, transportation, oil and gas, factory automation, remote monitoring, etc. Working with world-leading suppliers, Henrich's team focuses on designing, engineering, manufacturing and marketing a full range of customer-specific products and services. Always keeping up with the technology trend changes, we ensure that you are working with a trusted partner and one-stop shop for all your needs in industrial Ethernet products and services.