Henrich's Wind Power switches
Featured Product from Henrich Electronics, Inc.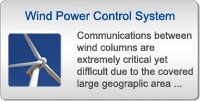 Wind Power Control System
Requirements
Communications between wind columns are extremely critical yet difficult due to the covered large geograplic area. The internet EMC interference from the wind motors is also an important factor. Therefore, ruggedized network equipments are demanded for the wind power applications.
Iuside the wind column head, various onsite field equipments are installed there. We used a serial server product to connect those equipment to our Ethernet switch-HES8M, installed in the bottom of the wind column, then connected to our HES10M-2G using the fiber port. HES10M-2G, connected with other HES10M-2G using gigabit fiber ring, formed a redundant recovery fiber network. Using our media converter HEMC2, the HES10M-2G is connected with HES26MC-2G in the control center.
Industrial Grade Design, Hardened and Reliable
All Henrich's Wind Power category switches are designed with the wind mill harsh environment in mind. They are fanless, high MTBF, wide operating temperature dual redundant power inputs, etc. to create a strong, maintenance-free wind power communications system.
Power
Henrich is a global leader in IEC 61850 & IEEE 1588 smart substation solutions, providing a wide range of networking and computing products for substation automation. Henrich is applying its innovative technological expertise to the creation of practical, market-specific networking and computing solutions for the smart substation industry. With over 12 years of experience in industrial networking, Henrich solutions now manage over 30 successful substation applications around the world, among them the world's 1st fully integrated IEC 61850 & IEEE 1588 smart substation.
Henrich--Your trusted partner for Industrial Ethernet Solutions
Founded in Storrs, CT., USA, Henrich Corporation has been helping customers across the globe to manage their industrial automation systems with rugged and secured Ethernet Networking Products in various industries, such as power utilities, transportation, oil and gas, factory automation, remote monitoring, etc. Working with world-leading suppliers, Henrich's team focuses on designing, engineering, manufacturing and marketing a full range of customer-specific products and services. Always keeping up with the technology trend changes, we ensure that you are working with a trusted partner and one-stop shop for all your needs in industrial Ethernet products and services.