Long Range Industrial Access Point
Featured Product from Henrich Electronics, Inc.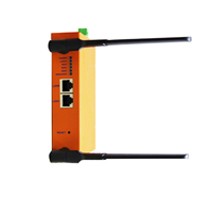 802.11b/g/n Long Range Industrial Access Point
HWRD300 Series
128MB System Memory
16MB NOR Flash
On-board 2.4GHz max 23dBm output power (per chain)
2 x 2 On-board radio up to 300Mbps physical data rate
2 x FE LAN RJ45 with Auto MDI/X
Passive 24V Power Over Ethernet
Integrated 48V IEEE 802.3af available as Option
Applications:
Dual Band, Dual Concurrent AP
802.11b/g/n+802.11a/n/ac AP
Point to Point and Point to Multi-Point Wireless Bridge
Wireless Base Station
Wireless Customer-Premises Equipment (CPE)
Support for Third Party 3G/LTE Radio Module
Industrial Wireless AP/Bridge
Henrich's industrial IEEE802.11 wireless AP/Bridge products Windup series for WLAN are ruggedly designed to resist the various effects of harsh industrial environments, such as high electromagnetic immunity to repel electromagnetic disturbances, galvanic isolation to guard against voltage instability, wide- temperature operation, and shock/vibration resistance. For industries that put a lot of pressure on their equipment, choose Henrich's industrial wireless AP and Ethernet bridge products to meet your needs today!
Henrich--Your trusted partner for Industrial Ethernet Solutions
Founded in Storrs, CT., USA, Henrich Corporation has been helping customers across the globe to manage their industrial automation systems with rugged and secured Ethernet Networking Products in various industries, such as power utilities, transportation, oil and gas, factory automation, remote monitoring, etc. Working with world-leading suppliers, Henrich's team focuses on designing, engineering, manufacturing and marketing a full range of customer-specific products and services. Always keeping up with the technology trend changes, we ensure that you are working with a trusted partner and one-stop shop for all your needs in industrial Ethernet products and services.