Mining Comprehensive Surveillance System
Featured Product from Henrich Electronics, Inc.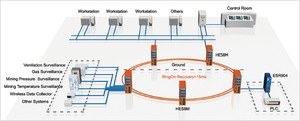 Mining Comprehensive Surveillance System
Intrinsically safe products are critical to having a safe and reliable mining working environment. Henrich's HES10-2G and HES28M-4G are intrinsically safe compliant. compliant. With Henrich's sophisticated product features, we can provide both above/under ground mining surveillance systems with proven records.
Uninterrupted Redundant Network from Henrich
Patent-pending RingOpen from Henrich Electronics provides the ultimate network redundant recovery scheme. RingOpen allows the third party devices to join the network without any interruption to the redundancy of the network.
Solutions:

Henrich--Your trusted partner for Industrial Ethernet Solutions
Founded in Storrs, CT., USA, Henrich Corporation has been helping customers across the globe to manage their industrial automation systems with rugged and secured Ethernet Networking Products in various industries, such as power utilities, transportation, oil and gas, factory automation, remote monitoring, etc. Working with world-leading suppliers, Henrich's team focuses on designing, engineering, manufacturing and marketing a full range of customer-specific products and services. Always keeping up with the technology trend changes, we ensure that you are working with a trusted partner and one-stop shop for all your needs in industrial Ethernet products and services.