Switches for train traction and/or braking command
Featured Product from Henrich Electronics, Inc.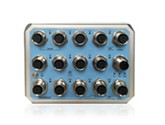 EN50155 Industrial Ethernet Switches
EN50155 switches are designed for communications between machines/devices inside trains. Compliant with IEC61375 standard and EN51055, these highly compactly-designed industrial switches can meet any hazardous environments while providing robust communication requirements for critical applications such as train traction and/or braking command requirements through these reliable devices.
Industrial Ethernet Switch (Industrial Switch) provides cost effective communication solutions to comprehensive industrial applications. Industrial switches can achieve real time communication, high networking reliability and high security. Compared to enterprise switches, industrial switches require more sophisticated design and electronic elements selection so that they can fulfill the harsh environmental requirement. Invest in a reliable EN60155 industrial Ethernet switch today!
Henrich--Your trusted partner for Industrial Ethernet Solutions
Founded in Storrs, CT., USA, Henrich Corporation has been helping customers across the globe to manage their industrial automation systems with rugged and secured Ethernet Networking Products in various industries, such as power utilities, transportation, oil and gas, factory automation, remote monitoring, etc. Working with world-leading suppliers, Henrich's team focuses on designing, engineering, manufacturing and marketing a full range of customer-specific products and services. Always keeping up with the technology trend changes, we ensure that you are working with a trusted partner and one-stop shop for all your needs in industrial Ethernet products and services.