Manual Hydraulic Riveting Systems Since 1985
Product Announcement from Henrob Corp.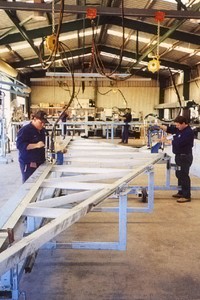 Manual Hydraulic Riveting Systems
Manual hydraulic riveting systems have been produced by Henrob since 1985. Many of those early systems are still in service today, a testament to their design and high quality components. A standard system is configured with a hydraulic power-pack delivering oil via flexible hydraulic hoses to a tool consisting of a C-frame mounted rivet setter and upsetting die. Activation is by either a hand pendant (mounted on the back of the C-frame) or a foot switch.
Typical configurations include:
Fixed pedestal tool (may be used in conjunction with robot manipulation of the component through the tool)
Three basic hydraulic models are available. All are capable of setting the full range of Henrob rivets:
Hydraulic Single Acting (SA) - a cost-effective solution for low volume applications. This single-phase 115/220/240 VAC unit can be readily moved around a workshop. The high-pressure rivet setter is compact and lightweight, affording good mobility.
Hydraulic Double Acting (DA) - for fast cycle times and long hose runs, commonly up to 25 metres. This is a true workhorse capable of continuous production in the most arduous environments. The rugged and simplistic construction lends itself to minimal and basic maintenance, well within the capabilities of most workshop personnel.
Hydraulic Double Acting Pre-Clamping (DAC) - incorporates high force clamping prior to rivet insertion. This technology was initially developed for the automotive industry where superior joint quality is required. These systems have proven their reliability in service for many years.
Options and upgrades for DA and DAC systems include:
Operation of single or twin rivet setters from one power-pack
"Category 3" two-handed safety control
Partial retract positioning of the rivet setter nose
Complete compatibility with all of Henrob's rivet feed options
Rivmon™ - Henrob's proprietary process monitoring system
Contact us for a free evaluation to confirm that our process is suitable for your application.
---