Portable Hand Held Riveting Systems
Product Announcement from Henrob Corp.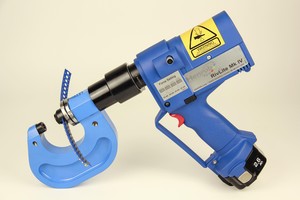 The RivLite hand-held battery powered tool was developed for situations where complete portability is required, such as field applications or on-site repair.
The tool features a modular design, which allows interchangeable tooling options such as C-frames of different sizes, noses for 3mm or 5mm diameter rivets and a special nose for setting threaded self-pierce studs. A rivet removal tool is also available to facilitate repairs such as the replacement of panels in a vehicle.
Rivets in tape are manually indexed into the nose and a simple trigger switch sets the rivet. The RivLite high force actuator is capable of installing Henrob's full range of rivets. Its handle can be positioned in 4 places, and the C-frame can rotate 360 degrees.
Contact us for a free evaluation to confirm that our process is suitable for your application.
---