Rivet Types for Many Applications
Product Announcement from Henrob Corp.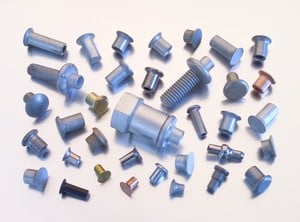 Rivet Types
There are five families of Henrob Self-Pierce Rivets. Each family is defined by unique geometry and has a range of macro features including head style, stem diameter and stem length. The five groups have been specifically developed to meet different functional requirements and application performances.
Rivet Type Selection
The choice of rivet type for a given application is dependent on numerous performance criteria - see Joint Development for details. Henrob Application Engineers select a rivet, in conjunction with appropriate tooling, to match the application characteristics such as the examples listed below:
Typical Application Characteristics:
Material Types, i.e. Aluminium, Steel, Plastic, Composite
Material - High Ductility, i.e. Cold Rolled Steel Sheet, Alu Sheet
Material - Reduced Ductility, i.e .Hot Rolled Steel, Extrusions, Castings
Material - Low Tensile Properties, i.e. Mild Steel, Non-Ferrous Alloys, Plastic
Material - High Tensile Properties, i.e. HSLA Steel, DP & TRIP Steels
Total Joint Thickness, i.e. 1mm to 6mm (Steel) & 1mm to 10mm (Alu)
Mixed Material Combinations, i.e. Plastics to Metal, Alu to Steel
Structural, i.e. Vehicles, Buildings
Non-Structural, i.e. Furniture, Cabinets, Attachments
Head Styles
Head styles are selected on the basis of either functional requirements or aesthetic appeal. Functional requirements may be:
Head flushness (level with material surface)
Shear, peel and fatigue strength
Locator or mechanical stop
Large bearing surface
Attachment points for secondary parts
Benefits:
Flushness on the head side of the joint
Good fatigue resistance
Benefits:
Provides good peel strength, especially in plastics or thin sheet metals
Allows good head seating, especially when riveting thick or very hard materials
Accentuates the aesthetics of a riveted joint and/or covers surrounding indentation on a Class A surface
Special rivet head styles are supplied when there is a need to combine the functions of the Self-Pierce Rivet and an additional feature, such as Threaded Studs, Plain Stand Off Pins and T Studs.
Rivet length is always matched to the stack thickness to be fastened. A given rivet length will cover a range of material stacks. Testing is carried out to determine the suitability of the rivet length for the material and thickness range being riveted. Henrob offers rivets in lengths of 4 to 14mm.
There are two standard diameters, 3mm and 5mm. The criteria for selecting the appropriate rivet diameter includes:
Required strength of joint
Required robustness of joint
Available access to joining area
Material thickness and hardness
Contact us for a free evaluation to confirm that our process is suitable for your application.
---