Soluva Air D UVC in-duct air disinfection
Featured Product from Heraeus Noblelight America LLC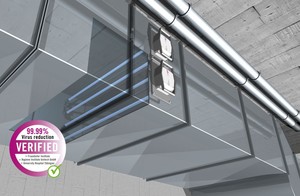 Whether hotel, public institution, offices, museum, airport or production area - the new Soluva® Air D provides the ideal solution for disinfecting air in large rooms or buildings with forced-air heating and cooling systems. Also for clean rooms and areas with low temperatures.
Soluva® disinfects without chemicals, quickly and easily using ultraviolet radiation, sometimes called ultraviolet germicidal irradiation (UVGI) and contributes considerably to reduced risk of infection and the wellbeing of occupants.
The Soluva® Air D in-duct disinfection modules fit into any supply air ductwork system. This makes them quick and easy to retrofit into existing buildings to provide another layer of protection against infectious aerosols like COVID pathogens, flu and cold viruses.
>Learn more about Soluva Air D for improving indoor air quality