Soluva Air V Wins Transportation Innovation Award
Featured Product from Heraeus Noblelight America LLC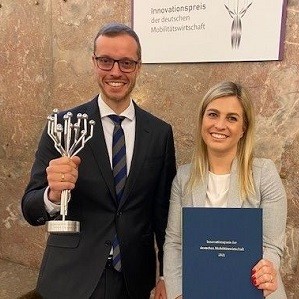 On November 15, 2021, the Förderkreis der Deutschen Verkehrswissenschaftlichen Gesellschaft (DVWG) e.V. (the German Society for Mobility Science) awarded the "Innovation Prize of the German Mobility Industry" in the category "Corona Special Prize" to Heraeus Noblelight. The award was presented at a ceremony to recognize the company's special achievements in the mobility and public transportation sector during the Corona pandemic.
Christian Rüth and Amanda Rath from the Soluva Team at Heraeus Noblelight, are proud: "We are convinced that supplementary air purification with UV light offers greater safety for passengers and staff in local and long-distance transport. We are very honored by the award!"
As part of the German Mobility Congress on November 16 and 17 at Kap Europa in Frankfurt, Heraeus Nobelight showed the Soluva Air V UV air purifier in an accompanying exhibition.