humm3 & AFP-XS selected CAMX 2021 award finalist!
Featured Product from Heraeus Noblelight America LLC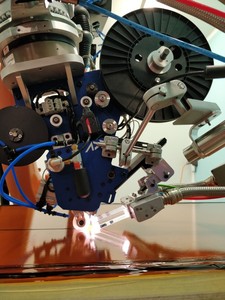 Heraeus Noblelight Ltd., based in Cambridge (UK), the center of excellence for flash systems technology and Addcomposites (Finland) the leading provider of automated fiber placement solutions have been selected as a CAMX 2021 award finalist. Heraeus Noblelight and Addcomposites are one of 15 finalists in the 'Unsurpassed Innovation Award' category. The 'Unsurpassed Innovation' Award celebrates a product with a design that incorporates low-cost materials for high-volume applications that can change the outlook of a particular market.
Heraeus Noblelight's humm3 heating technology has been combined with Addcomposites AFP-XS Automated Fiber Placement System to provide a revolutionary technology that extends access to the high-tech composites production capability beyond the aerospace industry.