Infrared heat for Composite Materials & Aerospace
Featured Product from Heraeus Noblelight America LLC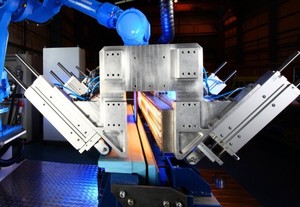 Short-fibre reinforced thermosetting plastics for large car body parts, long-fibre reinforced thermoplastics for high-strength structural components, woven rovings for wind energy plants or filament windings for sleeves and pressure cylinders: Composite materials are different based on their purpose. They all have in common that they are to be produced in the most cost-efficient way. Infrared heat helps!
Infrared heat cures thermosetting plastics and heats thermoplastics prior to welding, moulding or forming. Infrared radiation can be precisely adjusted to the product and the process. Advanced numerical methods such as ray tracing and computational fluid dynamics help make the heating of large surfaces homogeneous.
Popular application examples for IR used in composites processing include:
Infrared ensures quality of aerospace structures Infrared heat for the application of composite structures in aircrafts
Infrared emitters from Heraeus Noblelight are helping a global company in softening material used in aircrafts.
Read our application example here!