Al/SS Marine Parts: No Galvanic Corrosion
Featured Product from Hermetic Solutions Group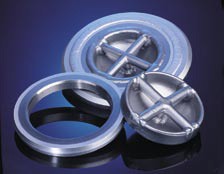 Bi-metallic transitions are produced with a solid-state welding process that uses controlled explosive energy to join two or more otherwise incompatible and/or exotic materials at the molecular level. This results in a permanent, solder-free metallurgical bond, and can create composites that are lightweight and have superior strength.
Explosion welded transition materials have become prevalent throughout the shipbuilding industry. Cylindrically bonded aluminum-to-steel transition rings, for example, enable shipbuilders to securely weld forged steel cup-and-cross tie-down elements into the aluminum deck of aircraft carriers. The Hermetic Solution Group's bonded metals division produces a number of components for both commercial and naval maritime applications including: tie-downs, sprinkler nozzles, deck drains, and more.
The Hermetic Solution Group's electrical bonding components and bond strap assemblies are manufactured in accordance with MIL-DTL-24749A.