Microwave and RF Package Sealing
Service Detail from Qnnect, formerly Hermetic Solutions Group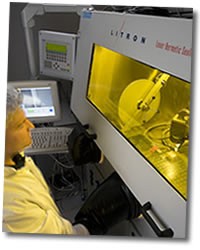 Our lasers can weld a variety of materials from Aluminum and Kovar to Stainless Steel, Titanium and Inconel to mention a few. If you're not sure whether the material can be welded just let us know and we'll tell you our experience and/or try a sample to demonstrate the weldability.
Gloveboxes
The hermetics lab is equipped with top of the line glovebox laser systems that were designed and assembled by the Hermetic Solutions Group. Whether you need hermetic sealing in a Nitrogen/Helium or Argon/Helium atmosphere, our systems are setup for your part. With multiple vacuum bake ovens we can have a variety of parts running through the process at the same time, allowing for quick turn-around to meet the most demanding schedule.
Testing Capabilities
All of the microwave and RF packages that are sealed in our hermetics lab are visually inspected prior to welding and fine leak checked and sometimes gross leak checked after welding based on customer specifications. All testing is done within the ISO Class 7 cleanroom environment, so your parts are never exposed to an uncontrolled environment.