Ceramic Hermetic Seals vs. Glass
Featured Product from Hermetic Solutions Group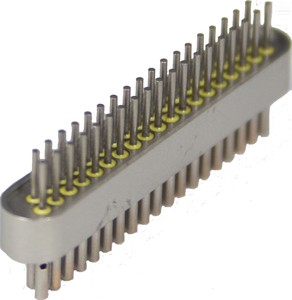 Hermetic connectors traditionally meant a Kovar pin sealed into a Kovar body with glass. Kovar certainly has its advantages, but light weight and electrical conductivity aren't among them. Hermetic Solutions Group's DC connectors offer two distinct advantages over glass-sealed connectors.
First, under harsh conditions, glass will eventually begin to crack. Once a crack occurs, it will eventually propagate throughout the seal and cause a hermetic failure. The polycrystalline ceramic (Kryoflex®) uses in its DC connectors won't propagate cracks, so it is a more reliable sealing method for applications that require reliable hermetic performance in harsh environments.
Second, Kryoflex seals at a lower melting temperature than glass, allowing the use of highly conductive copper alloy pins. A copper alloy pin delivers much higher electrical performance than comparably sized Kovar pins -- that means a smaller, lighter connector.
If size, weight and electrical performance are key considerations for your harsh environment hermetic application, contact Hermetic Solutions Group and learn how we can help optimize your design.