Kovar Is Not Your Only RF Packaging Option
Featured Product from Hermetic Solutions Group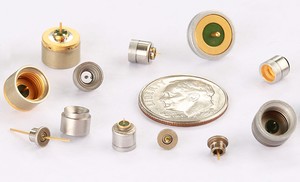 The Hermetic Solutions Group uses explosive metal welding technology to create unique metal combinations like Kovar/aluminum or Kovar/titanium. This construction gives us the ability to seal a Kovar pin into the Kovar section of the RF connector body and use the aluminum or titanium section of the connector body as a weld transition into the electronic housing.
The Hermetic Solutions Group's 50 Ohm hermetic microwave/RF connectors are designed for use in military and commercial applications where environmental conditions require an extremely rugged and reliable hermetic seal. Low-loss Corning 7070 glass is used for dependable electrical performance.
The Hermetic Solutions Group also specializes in the design, precision machining and integration of ultra-rugged, light-weight hermetic packaging for use in extreme environments.
The Hermetic Solutions Group utilizes unique materials in its manufacturing processes and offers a range of production capabilities – machining, plating, vacuum brazing, laser welding, and more – all at a single locations. This integrated manufacturing approach can reduce complexity and risk on your next project.
We have a talented staff of application engineers, with deep experience in developing and manufacturing custom hermetic solutions, who are ready to assist you with your next project. Let us know how we can help.