Micro-D: Maximum Performance and Hermetic
Featured Product from Hermetic Solutions Group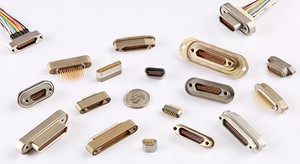 For applications where weight is a key consideration, PA&E now manufactures an aluminum Micro-D connector that's approximately 67% lighter than stainless steel alternatives.
The latest innovation in the Hermetic Solutions Group's Micro-D connector line leverages High Temperature Co-Fired Ceramic (HTCC) technology. The Hermetic Solutions Group's newest Micro-D connector's external interface resembles a standard rectangular connector, with rows of sockets providing an electrical connection. In this new, patent-pending design, however, the external sockets are mated to a specially engineered HTCC board (that integrates metalized circuit patterns), rather than traditional pins.
The Hermetic Solutions Group also offers a non-magnetic Micro-D option for use in harsh environments where superior hermetic integrity and non-magnetic characteristics are crucial to a component's design. The connector's shell is comprised of titanium and Inconel because this metal combination delivers the strength, expansion coefficients and low magnetic permeability required.
What interconnect challenge can we help you solve?