Sub-D Hermetic Connectors (.100 Contact Pitch)
Featured Product from Hermetic Solutions Group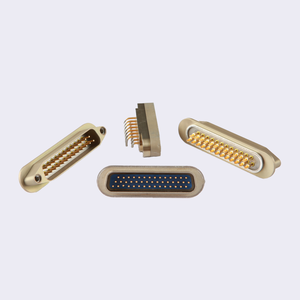 The unique controlled CTE characteristics, chemical bonding properties and polycrystalline structure of Kryoflex®, allow the Hermetic Solutions Group to manufacture this part with a 304L stainless steel shell and gold plated beryllium copper contacts for excellent electrical performance and environmental characteristics. These DC connectors can be produced for both laser-weld and solder-in applications.
The Hermetic Solutions Group's hermetically-sealed Sub-D connectors are manufactured to exceed the requirements of MIL-DTL-24308 and its contacts are finished with nickel/gold plating. These Sub-D connectors have a lead rate of less than 1X10-9cc/sec helium at 1 atmospheric differential pressure and exhibit no evidence of breakdown or flashover when tested in IAW MIL-STD-1344, Method 3003. They have an operating temperature range of -65°C to 200°C.
See detailed sales drawings for the Hermetic Solutions Group's Sub-D connectors here.