TO Window Caps with Hydrogen, Moisture Getters
Featured Product from Hermetic Solutions Group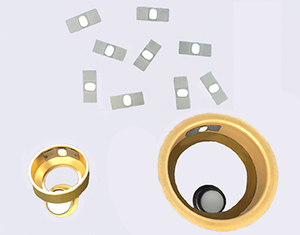 These windows feature the Hermetic Solutions Group's HTIR 2 ink getter material applied to a flexible tab which is then tack welded inside the window frame.

The tab's location will not interfere with the window's viewable area.

Window glass material and frame material combinations include: borosilicate/Kovar F-15; soda lime/stainless steel alloy, sapphire/Kovar F-15 and 8337 borosilicate/Kovar F-15.

The getter material is based on HSG's established zeolite
technology (with additional precious metals for tailored absorption).

This combination results in a high-reliability, MIL-Spec hermetic window that will increase a product reliability by absorbing moisture and hydrogen out-gassed by a TO package device electronics.