Adhesive & Dispensing Equipment Fire Suppression
Product Announcement from Hernon Manufacturing, Inc.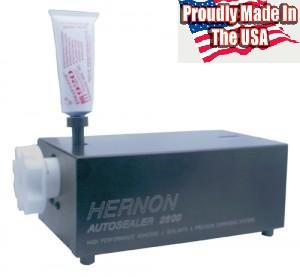 With over 400 grades of high performance military and industrial grade adhesives, sealants, coatings and related equipment, HERNON® is a true industry leader.
See examples of solutions for Fire Sprinkler Systems
HERNON®'s line of Dripstop® sealants for fire suppression are engineered with many advantages over conventional pipe dopes. These materials harden without shrinkage in the joints creating a tough, insoluble, vibration proof seal that will not leak even if threads are damaged.
HERNON®'s Dripstop® sealants are 100% active containing no solvents to evaporate. They do not shred like tape dope and they are not subject to cold flow, pressure and temperature phenomena like non-hardening dopes.
Each of HERNON®'s adhesive dispensing solutions is engineered to maximize quality control of the process, to maximize productivity, economy of sealant usage, and energy efficiency. As your total solutions provider, HERNON® has worked to refine this line of products and adhesive dispensing equipment to meet today's production environment rigors and need for accuracy and repeatability.
---