Ammunition Industry Sealants & Adhesive Solutions
Product Announcement from Hernon Manufacturing, Inc.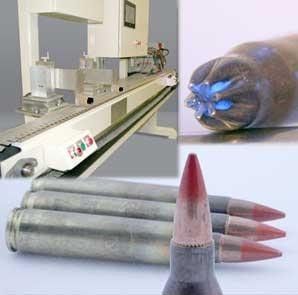 Hernon Has Received ITAR (InternationalTraffic in Arms Regulations) Registration!
Hernon Manufacturing has long been a leader in adhesives and sealants for the ammunition industry. Custom military applications are the root of Hernon's™existence. In recent years the ammunition industry, like other facets of manufacturing, has become increasingly more sophisticated. They face the same concerns as other industries regarding sustainability and ecological responsibility in an environment of increased competition.
HERNON's ammo sealing solutions have been proven to reduce costs, decrease product defects, and improve ballistic accuracy. Hernon meets many miltary specifications and is ISO 9001 registered
Scroll down the page to see a Video demonstrating one of our solutions for the Ammo Industry
HERNON's ammo sealing solutions have been proven to reduce costs, decrease product defects, and improve ballistic accuracy and Hernon meets many miltary specifications and is ISO 9001 registered
Hernon has introduced a specialized website addressing products for this industry at ammo.hernon.com. This site features products including outer waterproofing, identification, primer sealant, blank sealant, and process equipment. You can view videos of custom dispensing solutions that Hernon has developed for large munitions producers
Dowload our Ammunition Sealing Guide
Use the links on the left to learn more or e mail your inquiries
---