Hard-to-Bond Plastics? Use ReAct™784 adhesive
Product Announcement from Hernon Manufacturing, Inc.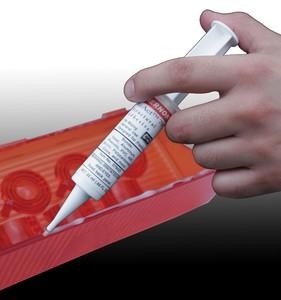 Hernon has taken the excellent bond strength of Fusionbond™ structural adhesive and merged it with the simplicity of the ReAct™ two-component, no-mix curing system to create ReAct™ 784 . ReAct™ 784 is a structural adhesive designed for a wide variety of substrates with strong bond strength and rapid fixture rates. The two-component, no-mix system allows controlled assembly timing ideal for production and repair applications.
SCROLL DOWN THE PAGE TO SEE THE VIDEO DEMONSTRATION
ReAct™ 784 is designed for bonding a wide-variety of substrates including steel, aluminum, phenolic, PVC, ABS, polycarbonate, and glass. Shear strength ranges from 400 to more than 4800 PSI on a various substrates. ReAct™ demonstrates good resistance to moisture as well chemicals such as motor oil, gasoline, and water/glycol. Temperature resistance is up to 135° Celsius (275° Fahrenheit).
ReAct™ 784 uses EF™ Activator 15 to create a simple two-component, no-mix bonding system. The operator applies EF™ Activator 15 to one bonding surface and the ReAct™ 784 to the opposite surface. The parts can then be mated instantly. As needed, the EF™ Activator 15 can be applied up to two hours prior to bonding the substrates. This unique system eliminates the need for mixing systems, curing equipment, inaccurate mix ratios, or wasted adhesive.
Use the links to the left to learn more
---