golf trolley lithium battery12V-22Ah
Product Announcement from Heter Electronics Group Co., Ltd.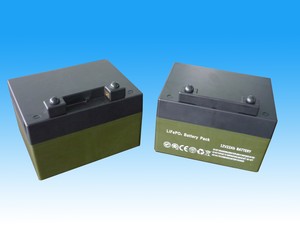 Items
Standard
Comments
Nominal voltage 12V
Typical capacity 22Ah At 0.2C discharge rate
Minimum capacity 21Ah
Size?L*W*H? 168*128*105mm
Weight 3.0±0.1Kg
Max continuous discharge current 30A
Over current protection 90±10A 20ms
Discharge cut-off voltage 10V Over discharge protection (recommended value) 9.6-10V
Charge voltage 14.6±0.1V Charge mode: CC/CV
Charge current 5A Use a constant current, constant voltage(CC/CV) lithium-ion (Li+) battery charge controller.
Inner resistance ≤40 mΩ Between positive and negative polar of discharge port
Operation temperature range Charge: 0?+45?
Discharge: -20?+65?
Storage temperature range 0?~40? at half charged state Recommended long-term storage temperature is 15~25?
Storage environment humidity RH: 65±20%
Environment humidity ≤85%RH
Shell material ABS
---