Custom Machined Parts
Product Announcement from Hi-Tech Seals, Inc.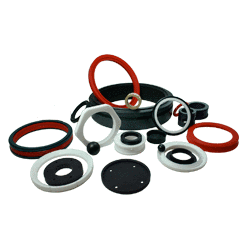 Rapid Seal is Hi-Tech Seals manufacturing division, which is located at our office in Edmonton, AB. With the help of our experienced sales, drafting and engineering staff we can quickly design and manufacture new prototype parts in a matter of hours without expensive tooling charges.
Hi-Tech Seals Inc. can create parts based on product samples, customer-supplied drawings or by using the existing metal dimensions to design a new seal. The purchase of custom machined parts saves you time, money and the grief of hunting down hard to find replacement parts.
Common Materials: Ethylene-Propylene (EPDM) | Fluorocarbon (ETP) | Fluorocarbon (Viton®) | Highly Saturated Nitrile | Nitrile |

Common Engineered Thermoplastics: Nylon | Acetal | Virgin and filled PTFE | Polyurethane | Virgin and filled PEEK | UHMW

To view Rapid Seal's website, please click here.
---