O-Rings
Product Announcement from Hi-Tech Seals, Inc.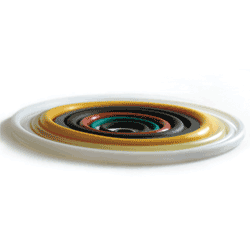 The U.S. Air Force first regulated O-ring sizing under the system AS-568. A properly designed O-ring groove allows the O-ring to be squeezed diametrically out-of-round even before the application of pressure. The O-ring is the most widely adopted seal in history because of its simplicity, low cost, ease of installation and small space requirements.

Over the years many countries and industries have tried to standardize O-ring sizes. Hi-Tech Seals is capable of supplying O-rings in a variety of both imperial and metric sizes, as well as the newly created ISO 3601 standard.
---