Custom Silicone Molding
Service Detail from Hiawatha Rubber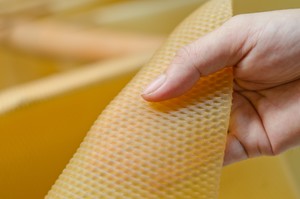 With nearly 60 years of experience in silicone molding, we have quality, efficiency, reliability, and consistency down to a science.
When we say custom silicone molding, we mean custom. Our chemistry team has decades of silicone formulation experience which we integrate in the planning stage of every silicone molding project. We start by analyzing everything possible about the application for your silicone component, and use our expertise with polymers, fillers, oils and curing systems to achieve market and product objectives within the constraints of the application environment.
Our people know what they're doing. The average tenure on our silicone molding floor is 15 years, and our core team has been with us for more than 30. Our molders have integrated access to our in-house chemistry and engineering departments, and the whole team works together to ensure every single part is designed, formulated, and produced to the highest standard.
When you work with Hiawatha Rubber, you have dedicated equipment to your product, immediate access to our customer advocates who can track and deliver updates, and peace of mind knowing our 24-hour operations get parts in your hands sooner. We use an advanced ERP system to track every activity related to your project, and that moment-by-moment accountability means we have a 360 degree view of your parts at all times.
Customers who switch to Hiawatha Rubber agree that our holistic approach to silicone molding results in the most consistent, precise, reliable, and timely manufacturing they've encountered.
Since 1955, Hiawatha Rubber has been designing and manufacturing difficult
high-precision parts for virtually every major industry. Our vast experience has enabled us to build a reputation not just as a premier rubber resource, but as a strategic partner that solves problems no one else will touch. We think of our business as an extension of our clients'. While other companies simply sell you a part without addressing underlying, fundamental problems, we look for OEMs who want to take a holistic view of their issues. To this end, we treat all of our relationships as partnerships—from our customers to our suppliers, we believe we must all work together to understand the systemic issues and business drivers affecting the whole. This type of collaborative process allows us to leverage the expertise of suppliers who are experts in their disciplines and technology. And it leads to unique, cost-effective solutions to our customers' most persistent and challenging problems.
---