Dissolved Species Analysis
Product Announcement from Hiden Analytical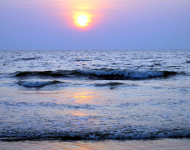 Dissolved species analysis employing Hiden's high sensitivity membrane sampling technology for analysis of respiratory gases, hydrocarbons and sulphides is applied to a wide range of application areas including:
Ecolological studies in sea water
Bio fuel production from algae
Pollution monitoring in river, estuary and reservoir waters
Soil core analyses
Fermentation
Products:
Dissolved species analysis system.
HPR-40 DSA.- A gas analysis system for analysis of gases, vapours and VOCs in liquids
Soil core analysis
Fermentation Process Analysis
Water Analysis in Estuary, River or Reservoir
Groundwater Contamination Studies
Methane Production Control
Microbiological / Enzyme activity studies
Environmental monitoring
The HPR-40 dissolved species gas analysis system is a compact bench-top gas analysis system for monitoring of dissolved / evolved gases, featuring:
Compact bench-top / mobile cart / console rack construction.
High Sensitivity (to 5 ppb), Mass range options 200, 300 or 510 amu.
Fast valve dissolved species probe incorporating permeable silicone membrane.
Membrane re-circulation cell option for extended, dynamic studies.
Penning Gauge and interlocks to provide over pressure protection.
Fast action automatic shut off valve in case of probe failure.
Ioniser liquid N2 cryopanels for optimum vacuum / minimal spectral interference.
Vacuum manifold isolation gate valve for fast start up at remote locations.
Stability (less than ±0.5% height variation over 24 h).
MASsoft control via RS232, RS485 or Ethernet LAN.
Soft Ionisation for the analysis of complex organics / appearance MS studies.
4 or 8 way multiplexed inlet for sampling from multiple probe
Brochures:
Hiden HPR-40 Membrane Inlet Mass Spectrometer System (1.68MB)
QIC Series Gas Analysers - System Configurations
Mass Spectrometers for Gas Analysis Applications (2.79MB)
Presentations:
Data from Fermentation Monitoring (3412K)
Oceanic Trace Gas Measurements by Membrane Inlet Mass Spectrometry (4218K)
At the Forefront of Analytical Technology:
Hiden Analytical celebrates 30 years of design, development and manufacture of quadrupole mass spectrometers. Our products address a diverse range of applications - precision gas analysis, plasma diagnostics by direct measurement of plasma ions and ion energies, SIMS probes for UHV surface science, catalysis performance quantification, thermo-gravimetric studies - over a pressure range extending from 30 bar processes down to UHV/XHV
Scientific Instrument and Equipment Design, Development and Manufacturing from Hiden Analytical
Hiden Analytical is a leading manufacturer of quadrupole mass spectrometers for gas analysis, plasma characterisation and both research and for process engineering and surface science.
Real time analysis of organic vapours and moisture in reactions.
Process monitoring for advanced manufacturing processes.
R&D and process monitoring for gas/vapour analysis.
Exhaust gas emissions, fuel cell technology, catalysts.
Development of special materials, hard coatings and metallurgical films.
Quadrupole mass spectrometry for the food industry.
Scientific Instrument and Equipment Design, Development and Manufacturing from Hiden Analytical
Service
If you have concerns regarding the performance of your Hiden system, we can review data files and provide instrument tuning tips to optimise your system performance. Hiden Analytical mass spectrometers can be operated by our service department over the internet, enabling our service engineers to take control of your Hiden system, and make tuning function adjustments on-line in real time. We also offer worldwide site visits, customer support and consultancy services. Click here to see our Service section.
Support
Hiden Analytical support provides:
Priority e-mail and telephone support for all our customers.
A fast personal response to service enquiries - you communicate directly with our senior engineers enabling first class effective support for your Hiden Analytical equipment.
A personal confidential data review service for our customers. We are pleased to review your data and confirm that your Hiden equipment has been correctly applied in your specific application. Our engineers are regularly cited in publication acknowledgements for useful communications.
Customer Feedback
We constantly strive to improve our products and maintain consistent high levels of customer service. Can you spare a few moments to tell us how we're doing? Click here to fill in a Customer Feedback Form.
Click here to send a message using our Online Contact Form.
Click here to see a list of our Sales Offices throughout the World.
---