Fast Transient MS Speeds the Process!
Product Announcement from Hiden Analytical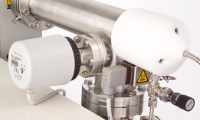 Fast transient mass spectrometer speeds the process
Hiden Analytical introduce a new gas analyser - the HPR-20 QIC TMS system - specifically configured for analysis of fast transient pulses and of rapid compositional changes in gaseous processes.
Developed for the researcher, the system is suited to studies of diverse thermally triggered and chemically triggered reactions.
The multi-mode Windows 7 MASsoft Professional software features quantitative analysis and statistical data reduction programs, peak area integration, and the APSI-MS soft ionisation mode to enhance spectral purity.
The system includes provision for import of two external signals to enable simultaneous integration of parameters such as temperature and weight with the mass spectrometer data.
Operating with sample pressures from near-atmospheric up to 30 bar, the bench-top mass spectrometer uses a fast digital detection system for minimized signal response times and features the Hiden triplestage mass filter for optimum sensitivity, species identification and corrosion resistance. Coupling to the process is via a flexible, heated capillary interface of length 0.9 M (3ft) with a throughput of just 20 mL/minute.
Measurement rate is up to 500 data points per second over a 7 decade dynamic range, with a compositional change at the sample point recorded in less than 150 milliseconds. Pulse profile resolution (5 % to 95 % peak height) is just 60 milliseconds.
HPR-20 QIC TMS - A specialist gas analysis system for fast event transient analysis
Compact bench top analysis system for fast event event studies
Transient Kinetic Analysis
In-Situ analysis
Contamination Studies
Environmental Gas Analysis
Thermal Analysis Mass Spectrometry
Catalysis Studies / Reaction Kinetics
The HPR-20 QIC TMS gas analysis system is a compact bench-top gas analysis system for fast event gas studies featuring:
Robust, flexible, heated (up to 200°C) Quartz Inert Capillary (QIC).
QIC direct inlet for
Continuous sampling of 1-20 cm3 / min from 10 mbar to 2 bar.
< 150 ms inlet response
> 5 decade response in < 500msecs
Liquid Nitrogen cryopanel for enhanced pumping of condensables.
High Sensitivity (to 5 ppb), mass range to 510 amu.
Soft Ionisation for the analysis of complex organics.
Stability (less than ±0.5% height variation over 24 h).
MASsoft control via USB 2.0, RS232 or Ethernet LAN.
Quantitative analysis methods.
At the Forefront of Analytical Technology:
Hiden Analytical celebrates 30 years of design, development and manufacture of quadrupole mass spectrometers. Our products address a diverse range of applications - precision gas analysis, plasma diagnostics by direct measurement of plasma ions and ion energies, SIMS probes for UHV surface science, catalysis performance quantification, thermo-gravimetric studies - over a pressure range extending from 30 bar processes down to UHV/XHV
Scientific Instrument and Equipment Design, Development and Manufacturing from Hiden Analytical
Hiden Analytical is a leading manufacturer of quadrupole mass spectrometers for gas analysis, plasma characterisation and both research and for process engineering and surface science.
Real time analysis of organic vapours and moisture in reactions.
Process monitoring for advanced manufacturing processes.
R&D and process monitoring for gas/vapour analysis.
Exhaust gas emissions, fuel cell technology, catalysts.
Development of special materials, hard coatings and metallurgical films.
Quadrupole mass spectrometry for the food industry.
Scientific Instrument and Equipment Design, Development and Manufacturing from Hiden Analytical
Service
If you have concerns regarding the performance of your Hiden system, we can review data files and provide instrument tuning tips to optimise your system performance. Hiden Analytical mass spectrometers can be operated by our service department over the internet, enabling our service engineers to take control of your Hiden system, and make tuning function adjustments on-line in real time. We also offer worldwide site visits, customer support and consultancy services. Click here to see our Service section.
Support
Hiden Analytical support provides:
Priority e-mail and telephone support for all our customers.
A fast personal response to service enquiries - you communicate directly with our senior engineers enabling first class effective support for your Hiden Analytical equipment.
A personal confidential data review service for our customers. We are pleased to review your data and confirm that your Hiden equipment has been correctly applied in your specific application. Our engineers are regularly cited in publication acknowledgements for useful communications.
Customer Feedback
We constantly strive to improve our products and maintain consistent high levels of customer service. Can you spare a few moments to tell us how we're doing? Click here to fill in a Customer Feedback Form.
Click here to send a message using our Online Contact Form.
Click here to see a list of our Sales Offices throughout the World.
---