Pharmaceutical Product Development
Product Announcement from Hiden Analytical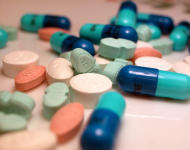 Pharmaceutical Product Development
The real time analysis of organic vapours and moisture in materials and reactions processes provides valuable information in pharmaceutical product development.
Real time evolved gas analysis from thermo-gravimetric analysers inTGA-MSapplications and from reaction calorimeters provides detailed information - unachievable with traditional laboratory techniques
Thermal Analysis Mass Spectrometer Systems
Coupling a Mass Spectrometer to Thermal Analysis techniques provides for evolved gas analysis as a function of time and temperature. The combined TA-MS data is used to characterise materials.
Data obtained from thermal analysis equipment provides great insight into thermodynamic and mechanistic aspects of the thermal behaviour of materials and their interactions with probe molecules. Mass Spectrometry employed in conjunction with thermal analysis provides speciation of evolved species as function of temperature and time to provide an extremely powerful technique for the characterisation of materials and their interactions and reactions with their environment. In order to obtain the full benefits from a TA-MS coupling, it is vital that the interface is optimised to avoid dead volumes and cold spots that compromise system performance. Hiden software/hardware interfaces provide for seamless operation for the combined TA-MS system.
Hiden offers optimized interface coupling to a range of thermal analysis systems including:
TGA-MS and TGA/DTA-MS systems: Hiden Isochema IGA - intelligent gravimetric analyser, PerkinElmer-TA Instruments- Netzsch- Mettler Toledo- Seteram
Calorimetry: Mass spectrometry for simultaneous evolved gas/calirometry analysis. Evolved gas analysis compliments the calorimetric data providing reaction kinetics data and speciation of reaction off gas.
Solid Insertion Probe: An integrated solid insertion probe mass spectrometer system for in-situ TPD studies.
Hiden Catlab: An integrated microreactor/mass spectrometer for catalysis characterisation.
Products:
Compact bench top analysis system.
Catalyst characterisation, kinetic/thermodynamic measurements.
TPD Workstation for thermal desposition studies.
Gas Analysis Systems for Catalysis, Thermal Analysis, Fermentation and Bio Fuels
Hiden manufactures gas analyzers that address the broadest application range....
Evolved gas analysis as a function of time and temperature
Experimental tools for catalyst researchers.
Ecological Studies.Fermentation studies, Bio fuels
Industrial and research applications.
High consistency in product yield from batch to batch.
Simultaneous sampling from multiple fermentors.
Accurate, stable and reproducible analysis.
Hydrogen / Deuterium / Tritium
Precise determination of low molecular weight species.
High sensitivity analysis of gases and vapours.
Atmospheric Gas Reaction Kinetics
Gas reaction kinetic chemistry of atmospheric pollutants.
Gas reaction kinetics and gas composition measurements.
Pollution monitoring and control.
In pilot plant and production scale fermentors, information relating to yield of product is of high importance. Hiden's gas analysers are configured with a multiport Off-Gas analysis manifold enabling simultaneous sampling from multiple fermentors. Data is used for the calculation of the respiratory quotient, carbon production rate and oxygen uptake rate.
The Off-Gas measurement provides the respiratory quotient in a time and space averaged form and with good response time. By comparison data from multiple dissolved species probes are more specific and can provide information about stirring efficiency, aeration and feed distribution within the fermentor. Dissolved gas measurements have the advantage of giving direct information on gas uptake and for dissolved output rates.
Hiden Analytical offers systems with either Off-Gas or dissolved species inlets or both
Products:
Mutlistream gas/vapour analyser. Simultaneous sampling from multiple fermentors.
Laboratory style gas/vapour analyser. Multiple species -PPB to 100% measurement range.
Dissolved species analyser. Ecological studies, fermentation studies, Bio fuels.
Lyophilization, commonly referred to as freeze drying, is the process of removing water from a product by sublimation and desorption. The freeze drying process is optimised by the introduction of solvents and gas species to improve product quality and to enhance the drying process.
Hiden's gas analysers provide detailed information about the gas/vapour composition during both the primary and secondary drying phases. Detection of the on-set of the secondary drying phase is readily detected. Analysis during the secondary drying phase enables a reduction in process cycle time and provides end point detection. Accurate determination of a user defined process 'end point' enables high consistency in product yield from batch to batch.
Products:
RGA for vacuum, process monitoring and leak detection.
At the Forefront of Analytical Technology:
Hiden Analytical celebrates 30 years of design, development and manufacture of quadrupole mass spectrometers. Our products address a diverse range of applications - precision gas analysis, plasma diagnostics by direct measurement of plasma ions and ion energies, SIMS probes for UHV surface science, catalysis performance quantification, thermo-gravimetric studies - over a pressure range extending from 30 bar processes down to UHV/XHV
Scientific Instrument and Equipment Design, Development and Manufacturing from Hiden Analytical
Hiden Analytical is a leading manufacturer of quadrupole mass spectrometers for gas analysis, plasma characterisation and both research and for process engineering and surface science.
Real time analysis of organic vapours and moisture in reactions.
Process monitoring for advanced manufacturing processes.
R&D and process monitoring for gas/vapour analysis.
Exhaust gas emissions, fuel cell technology, catalysts.
Development of special materials, hard coatings and metallurgical films.
Quadrupole mass spectrometry for the food industry.
Scientific Instrument and Equipment Design, Development and Manufacturing from Hiden Analytical
Service
If you have concerns regarding the performance of your Hiden system, we can review data files and provide instrument tuning tips to optimise your system performance. Hiden Analytical mass spectrometers can be operated by our service department over the internet, enabling our service engineers to take control of your Hiden system, and make tuning function adjustments on-line in real time. We also offer worldwide site visits, customer support and consultancy services. Click here to see our Service section.
Support
Hiden Analytical support provides:
Priority e-mail and telephone support for all our customers.
A fast personal response to service enquiries - you communicate directly with our senior engineers enabling first class effective support for your Hiden Analytical equipment.
A personal confidential data review service for our customers. We are pleased to review your data and confirm that your Hiden equipment has been correctly applied in your specific application. Our engineers are regularly cited in publication acknowledgements for useful communications.
Customer Feedback
We constantly strive to improve our products and maintain consistent high levels of customer service. Can you spare a few moments to tell us how we're doing? Click here to fill in a Customer Feedback Form.
Click here to send a message using our Online Contact Form.
Click here to see a list of our Sales Offices throughout the World.
---