EMI/RFI Gaskets
Product Announcement from Higbee, Inc.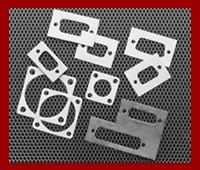 EMI/RFI Gaskets for Connectors
Grounding of AN Series, Bendix and RF-Type Connectors to an enclosure bulkhead in a manner that will reduce the ingress or egress of EMI/RFI interference can be accomplished through the use of these connector gaskets.
Connector gaskets materials can be selected to meet environmental and mechanical requirements of the package to be shielded.
These gaskets offer optimum RF grounding of connectors at minimal cost.
The elastomer embedded product is both an EMI shield and moisture seal with a minimum thickness, thus not requiring extended protrusion from surface enclosures.
EMI/RFI Shielded Rigid Frame Gasket
EMI/RFI knitted wire gasketing has been the standard shielding product since its first use in 1944. Since that time, the product has been refined and new knit wire products have been introduced to the present state of the art products.
Rigid Mount Frame EMI/RFI Gaskets consist of an aluminum extrusion with a specially designed jaw. When closed, the jaw crimps the fin of the knit wire EMI gasket to form a rigid construction with the EMI gasket held firmly in place. This extrusion, when fabricated into a frame with the corners of aluminum extrusion mitered and heliarc welded, provides a gasket assembly that can be installed with flat-head screws. This design makes retrofitting in the field a relatively easy task and at the same time provides a positive stop for controlled compression of the EMI Gasket.
Rigid frame gasket is especially recommended for large cabinet doors or access panels that are frequently opened. Knit wire gasketing acts like thousands of tiny spring members which are compressed and released with each opening and closing of a cabinet door or enclosure cover. The spring-lock gaskets assure long life with consistent point-to-point contact, providing high shielding effectiveness and long life.
For applications requiring a moisture seal, an elastomer strip can be bonded to the edge of the extrusion opposite the gasket.
An added barrier to EMI/RFI interference can be achieved by utilizing a double-shielded construction. The double-shielded gasket is recommended for large doors where controlling the mating surface joint unevenness can be difficult and expensive. A further consideration for utilizing the rigid frame approach is the load bearing support of extruded aluminum which aids in applications where shock and vibration are encountered.
Standard knit wire mesh is available in either monel, tin-plated ferrous, or knit mesh with elastomer core of neoprene or silicone sponge.
The highest possible attenuation levels are achievable with EMI/RFI knitted wire gasketing. Attenuation levels beyond 110 dB in the E-Field and 65 dB in the H-Field are common. Higher levels of attenuation are attainable with special materials and special design. Contact our sales engineers for additional information.
EMI-Knitted Wire Mesh Gasketing
All Mesh EMI/RFI knitted wire gasketing is available in various cross sections to satisfy the many different requirements encountered in shielding applications. The choice between rectangular, round, round with fin or double round with fin depends on the enclosure or equipment to be shielded.
Each strip has the same resiliency created by the knit construction but reacts differently dependent on material and shape. Of the most common materials used, Monel has the best spring factors while silver-plated brass has the highest conductivity. All mesh gasketing which is rectangular or round is recommended for groove mounting while single round with fin or double round with fin is recommended for flat surfaces. Surface conditions must be clean and free from such contamination as paint or oil for good conductivity and there should be an even distribution of pressure continuously along the length of the gasket.
A wide range of knit wire mesh materials is available. The standard knit wire mesh is either Monel or tin-plated ferrous. While these are standard, aluminum, silver-plated brass, gold-plated copper, tungsten, stainless steel, silver, nickel, iconel, and other wire can be knit and fabricated into special products.
EMI Shield Seal Gasketing
Shield Seal Strip is available in various material combinations and sizes. The versatility of materials and sizes provides assurance of protection against weather conditions including temperature extremes as well as protection against Electro Magnetic Interference and Radio Frequency Interference leakage. The material used conforms to the military specifications. The elastomers (Neoprene or Silicone) are available with or without an adhesive backing. Adhesive backing on the elastomer is often preferred due to the ease of strip mounting. The knit wire meshing is available in various wire materials with Monel and Ferrous material being the most popular. Double Shield Seal materials are available for added shielding effectiveness.
The Shield Seal Strip is used in applications such as electronic cabinets where this type of material is utilized around the doors of the cabinet to seal off stray EMI signals. The Shield Seal Strip is also used extensively to shield electronic boxes of various sizes and shapes.
Shield Seal Strip with adhesive backing is a convenient method of getting the optimum combination of materials for engineering or prototype models. In production it is more convenient and economical to have the complete gasket manufactured with the necessary mounting holes, compression stops and other special mechanical consideration incorporated. Each gasket would be complete and ready for installation thereby increasing reliability and reducing labor costs during assembly of the end product.
---