Waterjet Cutting for Aerospace
Service Detail from High Performance Alloys, Inc.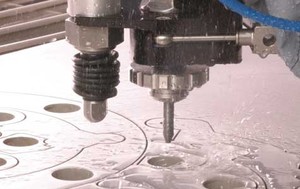 Hoosier WaterJet, a division of High Performance Alloys Inc., has added a Dynamic Flow waterjet to our shop with a bed size of 6' 6" x 13'. We will specialize in semi finished 2D parts with tight tolerances and superior edge quality. We will be able to cut sheet from 0.018" up to 4" plate. Cutting from drawings in DXF, DWG, OR IGS formats as well as many others. Drawings can also be created based on sketches of PDF files. HPAlloys caters to special requirements including research projects to nuclear orders, and everything in between. No job is too small.
Applications:
AEROSPACE

Titanium bodies | Engine components (aluminum, titanium, heat-resistant alloys)

AUTOMOTIVE

Interior trim (instrument panels, door panels) | Firewall, under-hood, etc | Grille Inserts | Truck bed liners

GASKETS

Automotive, marine, small engine, motorcycle, aircraft | Metal, copper, Teflon | Rubber, corkboard

METALS, EXOTIC & NONTRADITIONAL MATERIALS

Flat stock (aluminum, Stainless Steel, mild steel, titanium, brass, Inconel, tool steel, copper) | Ceramics (green state and final products) | Plastics (high and low density) | Plexiglas | Acrylics

STONE / GLASS / METAL ARTWORK

Flooring / tabletop / wall inlay | Metal artwork | Flat glass (not tempered) | Outdoor stone (pool decks, custom stepping stones, etc.) | Stained glass (crafts, church mosaics, lamp shades, etc.)

(Note: we do not carry all these materials listed - but we will cut them on a toll basis.)