Elevator Braking System Manufacturing
Featured Product from Hilliard Corporation (The)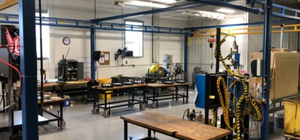 At Hilliard, custom applications are the norm. This is a driving factor in Hilliard's growth in the elevator market. Hilliard brake systems, sized specifically for each elevator drive application, continue to lead the way in the elevator secondary brake segment. Complementary to their brake systems, Hilliard is now offering customized interface mounting brackets manufactured to individual customer needs and specifications. The elevator secondary brake market is not a "one size fits all" proposition. Working closely with elevator industry leaders, Hilliard's engineering staff has listened and accepted the many challenges that have been presented when considering the mounting of Hilliard's brake systems to elevator drives. Once Hilliard has been presented with all of the proper data, details and specifications surrounding the drive system, Hilliard's additive manufacturing process can produce prototypes for custom bracketry and interface plates. These prototypes can be field verified, proven and expeditiously routed through Hilliard's standard manufacturing processes. Recently, Hilliard engineers worked in tandem with a customer to have a detailed part taken from a concept drawing, to a 3D printed model, to a fit up on site within a five-day span. This responsiveness provides a differentiation that places Hilliard out in front of the market.
Specific to the elevator secondary brake market, Hilliard offers two brake systems that can be adapted to a variety of drive machines. These brakes, the 6815 Electric Plate Brake (above left) and the MK 1400 series caliper style brake (above right), both carry the CSA certification for electrical components. Along with this third party validation, Hilliard engineering reviews each application data sheet that is presented. After this engineering review, a proper brake selection can be made and approved. This product selection and approval is invaluable in assisting Hilliard's customers with data presentations for the AHJ's and consultants that are often required with customer's projects. The Hilliard Sales team has worked extensively with our Marketing and Engineering staff to become familiar with the elevator drive market and all of its specific details. As a result of this concentration, Hilliard continues to expand its knowledge and serviceability with each new application.
In response to market growth and our expanding sales efforts, Hilliard has invested in a "brake cell" that is dedicated to the final assembly of both the 6815 and the MK1400. This investment is allowing Hilliard to increase output of finished product and is positioning Hilliard for the expansion of the elevator secondary brake market that is being driven by ASME A17.1. standard.
The Hilliard team is excited and positioned properly to grow with the ever expanding market of all of its product lines. Hilliard has been a member of the NAEC since 1997 and is looking forward to seeing everyone at the NAEC convention this fall.