Hilco Quench Oil Reconditioning System
Product Announcement from Hilliard Corporation (The)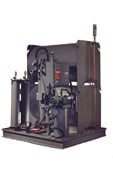 Heat Treating Operators are faced with mounting costs and tighter regulatory compliance issues when disposing of used quench oils.
The HILCO Quench Oil Reconditioning Systems make it possible to safely and economically recondition and reuse quench oil. This dramatically reduces disposal costs and new oil purchases and forms an efficient fluids management system.
The system removes moisture, dissolved gasses and particulate contamination from oil based quenching fluids. Water is removed, thus eliminating the cause of foaming and possible explosive and fire hazard. The removal of particulates will eliminate smoking.
The systems are ideally suited for batch processing and are available with 50 GPH or 75 GPH capacities.
Applications: Allows reliable reclaiming of the following fluids: hydraulic fluids, cutting oils, castor oils, quench oils, insulating oils, lubricating oils, transmission fluids, vacuum pump oils.
Quick Payback, Continued Savings:
Low Temp and Pressure Switches will automatically recirculate oil: these redundant components insure safe, clean, reusable quench oil.
Reduces disposal costs
Eliminates smoking
Design Features:
Flow Rate Indicator
Distillate Tank with Sight Port
Integral Vacuum Pump Lube Oil System
0-30" Hg Vacuum Gauge
TEFC Motor
Low Watt Density Thermostatically Controlled Electric Heater
Automatic High Temperature Shutdown at 250 Degrees F.
50-300 Degree F Temp Gauge
NEMA 12 Control Enclosure
Water Cooled Vapor Condenser
Relief Valve on Outlet
Basket Strainer on Inlet
HILCO Standard Paint
460V-60Hz-3Ph Electrics
---