Machine Tool Coolant Recyclers
Featured Product from Hilliard Corporation (The)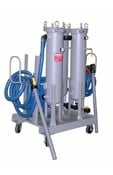 The Machine Tool Coolant Recyler quickly and efficiently removes tramp oil and metal fines and other particulate matter and restores coolant to like-new condition. This portable unit cleans both water-based and synthetic machine tool coolants.
Save on disposal costs and purchases of new fluid, plus eliminating downtime for coolant removal.
Applications
All chip forming operations that utilize water base coolants; also well-suited for turning, drilling, boring and milling operations.
Machine Tool Coolant Recyclers Advantages:
Efficient oil removal
Does not affect coolant chemistry
Reduces coolant purchases and disposal costs
Extends tool life
Reduces coolant fouling and odors
Design Features:
Portable
On-line operation
Improved parts finish
Simple to operate
10 micron pre-filter
Click here for additonal product information.