Twiflex Caliper Disc Brakes
Featured Product from Hilliard Corporation (The)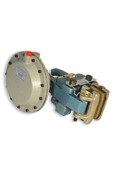 The Hilliard Corporation is the exclusive distributor for Twiflex in the United States. Twiflex Limited, founded in 1946, headquartered in Twickenham England, specializes in the design and manufacture of caliper disc brakes that are renowned for quality and precision worldwide.
Twiflex Brakes include:
Direct Acting Pneumatic calipers serve light- to heavy-duty braking applications.
Applications: Paper converting, wire-making machines, and marine propulsion.
Direct Acting Hydraulic caliper features easy friction pad replacement and simple mounting.
Applications: Marine propulsion, turbines, winches, wood chippers, car shredders, dynomometers.
Direct Acting Mechanical spring applied calipers feature a hand knob for adjustment of spring force, providing an effective and economic solution for light drag or tension brakes where hand setting can give adequate braking control.
Applications: Turntables, industrial fans, and tensioning applications.
Spring Applied Pneumatic brakes can be conveniently hooked up to shop air supplies or powered by stand-alone compressors.
Applications: Steel process lines, mining machinery, hoists, rail cars, and wind turbines.
Spring Applied Hydraulic often described as "Safety Brakes", are typically installed on the low-speed shaft or final drive of critical equipment.
Applications: Downhill conveyors, hoists, mills, elevators, escalators, and wind turbines.
Spring Applied Electric released caliper features a DC pancake motor driving through a recirculating ball screw to release lever.
Applications: Stage equipment, winches, and cranes.
Hydraulic Power Units are designed to operate a wide range of Hilliard/Twiflex Brake Systems.
Applications: Mining, material handling, and steel applications.
Click here for additional product information.