High Overload Torquemeter
Product Announcement from S. Himmelstein & Company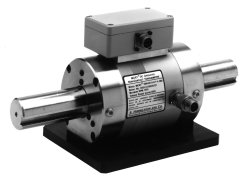 S. Himmelstein and Company introduced the MCRT® 59000V Series high overload torque meters. These robust, non-contact torque sensors offer industries highest safety margins - overload capacity is 10 times the full-scale rating. Accuracy is 0.1% of full scale, traceable to NIST. New advances also make the MCRT® 59000V insensitive to the severe electromagnetic interference (EMI) produced by variable frequency motor controls.
Their high overload and high torsional stiffness allow these sensors to safely and accurately measure diesel and single cylinder engine/compressor drive torque's. Heretofore, those situations could only be handled with an oversized conventional torque meter and the introduction of significant measurement errors. Other MCRT® 59000V applications include measurement and control of rapidly started, stopped and reversed inertia loads, drivelines with a high peak to average torque ratio, and to reduce risk if the peak torque can't be predicted
Dual ±5 Volt outputs interface directly to the users PC/PLC controller or data acquisition system. A single, unregulated dc supply (10.5 to 24 Volts) is required for power. Operation is bi-directional from stall to maximum speed. Other features include 15-5PH stainless steel load bearing members, non-ferrite rotary transformer signal coupling, splash proofing and permanent lubrication. Full-scale ratings cover the range from 40 to 735,000 lb-in (4.5 to 83,000 n-m). Both shaft and flanged styles are available.
---