Shaft Horsepower Meters
Product Announcement from S. Himmelstein & Company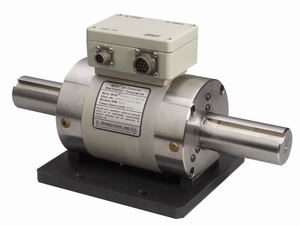 Shaft Horsepower Meters from S. Himmelstein.
These robust, non-contact devices have full scale ranges from five to 76,000 horsepower and can accumulate virtually unlimited net energy. They output ±10 Volt analogs of power, torque, speed and energy as well as data in engineering units via a resident com port.
Operation is fully bidirectional and measurements are valid to zero speed. Two accuracy grades are offered: 0.08% and 0.13%.
0.08% Accuracy
Output Analogs of Power, Torque, Speed and Energy (option)
Output Engineering Unit Data Via RS232C Port, PC
Interface Software Included
Automatic Zero and Span, No Manual Adjustments
Bidirectional Operation Valid to Zero Speed
High Safety Margins - 200 and 400% Torque Overload Ratings
14 Bit Accuracy Signal Processing
NIST Traceable, NVLAP* Accredited Dead Weight Calibration
Hardened to EMI From Adjustable Speed Drives
Remote, Bidirectional NIST Traceable* Calibration
Powered By A Single, Unregulated Reverse Polarity
About S. Himmelstein:
Established in 1960, S. Himmelstein and Company makes the worlds best sensors and data acquisition systems. Company innovations have created many advances in sensor technology. We design, manufacture and test these products in Hoffman Estates, Illinois where complete machine shop, surface mount, test and engineering facilities permit control of the manufacturing process.
---