Square Drive Reaction Torque Transducers
Featured Product from S. Himmelstein & Company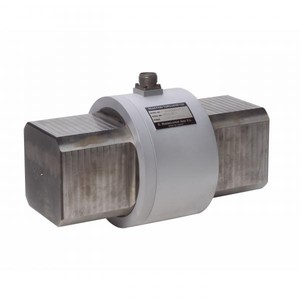 S. Himmelstein and Company's RTM 2208 and RTM 2209 square drive reaction torque transducers are characterized by high torsional stiffness, very high overload and high extraneous load capacity. Their low weight and compact size simplify installation and handling.
Verifying rotational torque applied by heavy power tools, the RTM 2208 and 2209 non-rotating torque transducers permit accurate confirmation of static and dynamic torque. They can be used while the device under test is rotating such as calibrating torque wrenches used in make-up and breakout of drill strings in oilfield applications. The components handle capacities from 300,000 to 3,000,000 lbf-in. They are also available with Model 708+ signal conditioning instrument for data display, computer interface, and I/O control.
Torque output signal is provided as 3 mV/V nominal, compensated temperature range is +75 to +175°F, and usable temperature range is - 65 to +225°F. All torque transducers from S. Himmelstein and Company are noise-hardened against electromagnetic interference (EMI) generated by other Variable Frequency Drives, ISM transmitters and other industrial noise sources, further enhancing their real world performance.
S. Himmelstein and Company has been offering innovative torque measurement solutions since 1960, manufacturing a full line of shaft, spline, flange, pulley, wheel and reaction torquemeters, and other torque measuring instruments. All units are shipped with an NIST traceable, ISO 17025 accredited calibration certificate. Laboratory accreditation provided by NVLAP (NVLAP Lab Code 200487-0).
Established in 1960, S. Himmelstein and Company makes the worlds best sensors and data acquisition systems. Company innovations have created many advances in sensor technology. We design, manufacture and test these products in Hoffman Estates, Illinois where complete machine shop, surface mount, test and engineering facilities permit control of the manufacturing process.