Torque Calibration Laboratory
Product Announcement from S. Himmelstein & Company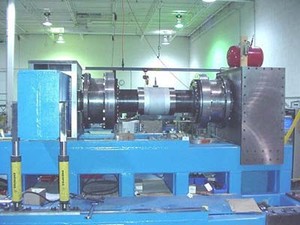 Torque Calibration Laboratory - S. Himmelstein.
Only Himmelsteins' Torque Calibration Laboratory has an Accredited* Measurement Uncertainty consistent with its product specifications. Other suppliers calibrate without independent, internationally recognized accreditation or, they use an accredited calibration facility with a best measurement uncertainty less than or equal to the torquemeter specification. That's absurd! You can't guarantee 0.05% or 0.1% performance when your calibration equipment has an uncertainty of 0.1% or 0.2%.

Only Himmelsteins' calibration facility is accredited* for its entire product line - from 10 ozf-in to 4,000,000 lbf-in. What's more, only Himmelstein can provide noise hardened units, ferrite-free transformer couplings, corrosion resistant construction, 400 and 1,000% overload ratings, dual range models and 2-wire torque transmitters. And, we offer more torque ranges, mechanical styles, data formats and power sources than anyone. These facts demonstrate our commitment to producing world class products unsurpassed for accuracy, reliability, and operation in hostile environments.
Himmelsteins' Torque Calibration Laboratory is accredited by NVLAP, an arm of the NIST, lab code 200487-0. Select the links below for a copy of the NVLAP Certificate and Accreditation Scope or, use the "Laboratory Accreditation" link at www.nist.gov.
Certificate of Accreditation, NVLAP_Cert_2008.pdf (222 Kb)
Scope of Accreditation - Torque & Force, DC (mV/V) Voltage, and RPM:
NVLAP_Scope_2008.pdf (105 Kb)
Contact us today for more information
Sample Calibration Certificate, Sample_Cal_Cert.pdf (133 Kb)
For More Information Contact:
S. Himmelstein and Company
2490 Pembroke Ave
Hoffman Estates, IL 60169
Tel: 847-843-3300
FAX: 847-843-8488
email: sales@himmelstein.com

Play Torque Calibration Laboratory Video on YouTube
---