Accurate Flow Measurement in Sanitary Applications
Featured Product from Hoffer Flow Controls, Inc.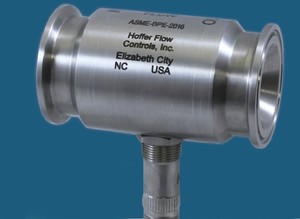 Flow measurement in the food and beverage and the pharmaceutical and biotech processing industries is one of the most fundamental and critical measurement applications in terms of affecting product quality, production efficiency and regulatory compliance. Process engineers in these industries today have a wide array of technologies from which to choose when addressing these flow measurement applications.
Depending on parameters such as sanitary system design and certification requirements, fluid type (liquid, gas, steam or cryogenic), material compatibility, Clean-in-Place (CIP) capability, fluid viscosity, flow range and operating temperature and pressure to name some of the more prominent ones, an engineer can select from more than a half dozen flow measurement technologies. For decades, the sanitary rated turbine flow meter has been one of the more popular technology choices and remains so today, but like any other flow measurement technology, there are certain applications for which the turbine flow meter is best suited and provides the user with the best returns on their investment.
The Hoffer Advantage
The Hoffer Sanitary turbine flow meter product series shares all of the above characteristics plus a number of others more specific to sanitary flow measurement applications that are detailed as follows:
Multiple finishes including a mechanical polish of 30 micro-inch, an electro-polish finish of 25 micro-inch and finer finishes available upon request to meet the most demanding requirements for sanitary applications.
Field-proven in thousands of installations.
Available in 11 sizes, ranging from 1/4" to 3".
Flow rates from 0.35 to 650 GPM available.
Dual rated 316/316L stainless steel construction with sanitary tri-clamp style end fittings.
Suitable for liquid sanitary applications including Water for Injection (WFI), RO water, DI water, solvents, bottled water, beverages and many others.
CIP capable for flushed cleaning with suitable cleaning liquids or steam.
Click here to read more.
For additional information, visit www.hofferflow.com/sanitary.