HRT1 RATE INDICATOR/TOTALIZER
Featured Product from Hoffer Flow Controls, Inc.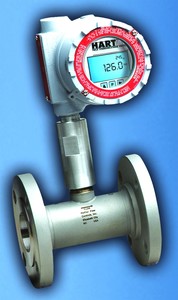 Hoffer has released the HRT1, an upgrade to our popular HIT-2A Rate Indicator/Totalizer which incorporates HART® Communications Protocol.
The HRT1 rate and total indicator works flawlessly with Hoffer turbine flowmeters and other frequency producing flowmeters. The new HRT1 will enable the customer to communicate to a processor via software or even a handheld communicator if desired using the highly popular HART® protocol. Thus, they can adjust settings in the unit and check diagnostics.
Features of the HRT1 include rate, total and grand total display, two optional alarm outputs configurable for rate and total, 20 point linearization, scaled pulse output and 4-20mA loop powered analog output. The HRT1 incorporates the latest HART® software Version 7. This software provides an upgrade and migration path to HART® wireless for future product enhancement.
For more information on the new HRT1 indicator with HART® Communications Protocol contact Hoffer Flow Controls at 1-800-628-4584 or email us at info@hofferflow.com.