Insertion Turbine Flow Meter for Pipeline Industry
Featured Product from Hoffer Flow Controls, Inc.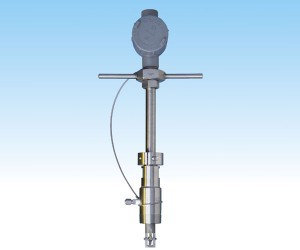 Hoffer Flow Controls supplies many "insertion" turbine flowmeters to the petroleum pipeline industry. These flowmeters are used in leak detection flow applications to check the integrity of the pipeline. This in turn prevents loss of product and, as a result, saves money and also prevents pollution to the environment. Typical accuracies of 1% may be reached with the hp insertion and can approach ±0.25% depending on the type of transmitter specified with the flowmeter.
Multiple advantages including low cost, negligible pressure drop, low installation costs, minimal potential points of leakage, and avoidance of high pumping costs place the insertion meter ahead of both in-line turbines and other types of flowmeter technologies. The hp insertion can be specified for use in velocities of up to 50 fps, allowing pipeline companies to move a maximum amount of product in the shortest time possible.
Several versions are available including fixed, bi-directional, and adjustable for low and high pressures. This series has a 10:1 flow turndown range. In addition, a number of process fittings may be supplied to suit the demands of various applications.
Designed for use in medium to large diameter pipes, the insertion meter may be installed or removed from an active line without interrupting service. Applications range from 4" to 72" pipe diameters with specials available upon request.