Mobile App for Cryogenic Delivery Flow Computer
Featured Product from Hoffer Flow Controls, Inc.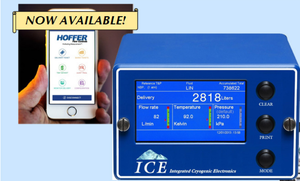 Hoffer Flow Controls, Inc. of Elizabeth City, North Carolina proudly introduces the first smart phone mobile app for a cryogenic delivery flow computer. The NEW smart phone mobile app works with Hoffer's ICE cryogenic flow computers and cryogenic truck mounted systems. For 50-years Hoffer has been the worldwide leader in the development of legal-for-trade cryogenic flow measurement systems for use on over-the-road delivery tankers and trucks.
The ICE, first introduced by Hoffer in 2010 as our next generation cryogenic flow computer, has previously undergone major upgrades to the screen, user interfaces, global legal metrology accreditations and multiple-language options. Hoffer's new smart phone apps give our customers the ability to revolutionize the way they interface with their delivery systems, enhance the delivery process for their customers, provide information and insights on how the systems are being operated and create new value propositions and options for their delivery systems that before were simply not available.
Learn more and complete the field upgrade to your ICE unit adding the BLE option to work with your Hoffer ICE Smart Phone App.