Kit Encoder HS 30A
Product Announcement from Honest Sensor Corporation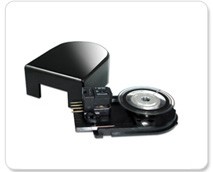 The Honest Sensor Kit Encoder series of HS30A, HS30B, and HS56 are all composed with well thought-out components. From mounting the base, installing the hub disc, to sliding in the optical Module; we make every step easy and user friendly. Our encoders come with two distinct output options: single ended (A, B, Index) and differential (A, B, Index, A-, B-, Index-) outputs. We are also able to customize encoders for our customers that are tailored to their individual needs.
Honest Sensor also endeavors to develop and manufacture innovative encoder discs to enhance and augment the great performance of our encoders. Our encoder discs can also be custom manufactured according to customer needs. The specially designed base and cover of our encoders are made of PC material and is produced by our own mold and injection machine. This results in encoders that are more resistant to external shocks and thus offers secure protection of components inside the encoder. The special design of our slide-on sensor which with the help of the aligning pins perfectly positions the sensor on the base without further alignment. With this exceptional design, the modules can be assembled and disassembled with great ease for the purpose of swapping out discs, without any troublesome realignment nor loss of signal. Our encoder modules come with output connection cables adapted to the needs of our customers.
With Excellent optical clarity, high temperature resistant discs, resolutions up to 1024 CPR, and user friendly designs, the HS30A, HS30B, and HS56 encoder modules are your smart choice for encoders!
---